Dr. Melissa Wasserstein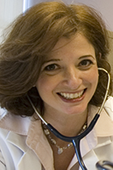 Clinical Genetics MD,  Clinical Biochemical Genetics
Clinical Interests:
Medical Genetics, Pediatric Genetics, Inborn Errors of Metabolism, Lysosomal Storage Diseases, Newborn Screening, Urea Cycle Disorders, Hyperammonemia, Fatty Acid Oxidation Defects, Organic Acidemias, Maple Syrup Urine Disease
Dr. Wasserstein is the Director of the Program for Inherited Metabolic Diseases (PIMD) at Mount Sinai Medical Center. This program is one of the largest metabolic disease treatment programs in the country, treating several hundred patients who are diagnosed with rare inborn errors of metabolism. The PIMD is a New York State Newborn Screening designated referral center for infants with inherited metabolic diseases, and is also the leading referral center in the region for the evaluation of patients with suspected inborn errors of metabolism. Disorders that are treated at the PIMD include:
Dr. Wasserstein is part of Mount Sinai's International Center for Types A and B Niemann-Pick disease. She is also a clinical researcher, focusing on evaluating the safety and effectiveness of novel treatments for patients with inborn errors of metabolism.