Seng H. Cheng, Ph.D.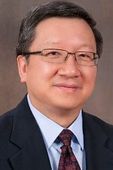 Senior Vice President & Chief Scientific Officer, Rare Disease Research Unit at Pfizer
Dr. Cheng received his BSc, and PhD degrees in Biochemistry from the University of London, U.K. He trained as a postdoctoral fellow at the National Institute for Medical Research in London, U.K., in the field of tumor biology. He was a Staff Scientist at Integrated Genetics Inc., and later joined Genzyme Corporation to work on several discovery projects including the structure and function of the cystic fibrosis transmembrane conductance regulator. As Group Vice President of Genetic Diseases Science at Genzyme, he also managed the development of novel gene delivery vector systems as well as translational research of genetic diseases, a number of which transitioned to clinical testing. Areas of focus included inherited metabolic, muscle, lung and neurodegenerative diseases. He has published over 240 research articles and reviews, and is a named inventor on 45 issued patents in the area of biotechnology.