Steven Laffoon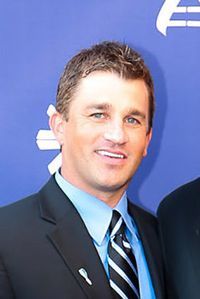 Wylder's Dad  |  Founder & President
After receiving the news in January of 2010 that his baby boy, Wylder James would most likely not see his second birthday due to Niemann-Pick Type A Disease, for which there currently is no treatment, Steven Laffoon went on a two-year mission trying to find a way to treat and save his son's life. During this process, he traveled the county speaking with doctors, scientists, biotech companies, and the FDA trying to put together a treatment protocol in an attempt to save Wylder's life.
In April of 2011, after a trip to Duke University Medical Hospital and several trips to Mount Sinai School of Medicine in New York, Steven, and some of the finest doctors and scientists in the world treating Niemann Pick Type A, came to the conclusion that his son was too far progressed in the disease, and a treatment option would not happen in Wylder's lifetime. This was something that felt impossible to swallow emotionally, but scientifically made sense.  From that day on Steven and his wife Shannon decided to enjoy every last minute with their son, and truly live life in the moment.
On July 20, 2012 at the age of three, Wylder James took his last breath here on earth, but not without leaving behind lessons of unconditional love, and providing perspective on how to make a lasting impact on the world by paving the way to help others.  As part of a promise made to his son, Steven co-founded the Wylder Nation Foundation with his wife Shannon to help provide much needed hope to a rare and neglected disease community, and ultimately reduce the number of children's lives taken by Lysosomal storage diseases.  The Foundation seeks to provide what Steven tried so hard to create for his WARRIOR…options for treatment.  He believes that options provide families with hope, and hope gives children and their families a reason to continue the fight and persevere against terminal illness.
Steven is heavily involved in the rare disease community and adamant about speeding up the process and time it takes to bring a potential new therapy from discovery to the patient's bedside when it comes rare and neglected childhood diseases.  He currently sits on the National Advisory Council (NAC) and Parents Advisory Committee (PAC) for the Center for Rare Childhood Disorders at the Translation Genomics Research Institute in Phoenix, and is a member of the International Niemann Pick Disease Alliance.
Steven is also an industrial chemical consultant for a specialty chemical manufacturer, and holds a degree in Communications & Business from Colorado State University.  He resides in Scottsdale Arizona with his wife Shannon and two boys Koa & Jagger.